Eco-Sexy Dating Tips
by Jill Crosby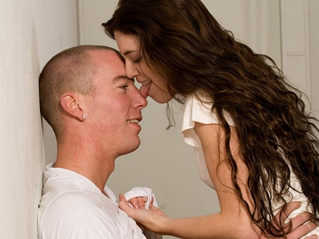 Whether single or in a relationship, we can always bring more sensuality into our lives….while keeping it green!
We recommend supporting local businesses by purchasing the items below at your nearest earth-friendly co-op or green grocer. Buy organic or GMO-free when you can. Remember, it's all about the allure of caring for the planet and each other.
Here are some natural aphrodisiacs to enjoy with your date:
· Avocados – Hopefully, on your trip to the farmers' market you have loaded up on sexy, succulent, fruits and vegetables and you haven't forgotten a few avocados. Yes! This smooth, silky, vitamin E filled, emollient, is perfect for rubbing body parts, boosting arousal, and adding intensity, for a slippery edible adventure. After rinsing off, you will both notice how moist and sexy your skin feels.
· Cornstarch – Buy it organic and from the bulk bins. This surprisingly sexy ingredient feels like liquid silk. On a hot day, start by massaging your date's/mate's back, work up to a full body massage when things start to heat up. Let the pleasures flow.
· Tomatoes – red, succulent, and juicy! Often coined as "the apple of love," one juicy bite and you'll see why. Buy these vine ripened at your next farmers' market. Bring a basket made by your local tribe and shop together. Feed it to your date and see how this erotic fruit really heats things up. The slurp alone can get you hungry for more. Make sure you have a nice, soft, organic, cloth napkin at hand to continue this erotic pampering.
· Melted, free-trade, organic, rainforest chocolate – Support the free global market by heating up some rich, dark chocolate, placing a cup full next to your date, and begin tantalizing them through their nose. Nothing's better than dipping fruit or fingers into thick, warm chocolate and having a sensuous tongue lap it up. Make sure you wear a sexy, little apron with nothing on underneath while you stir and heat up the chocolate. Use your fingers to write something erotic on your date's skin, then erase it with your tongue. Remember, chocolate contains phenyl ethylamine (PEA), the same "loving" chemical that our body naturally produces during the first moments of falling in love (or lust). Edibly erotic!
· Homemade granola – After your erotic adventures, you both may be ready for something a bit more hearty but not too heavy. Try some organic homemade granola or make it together. Granola, made with organic oats and grains, is rich in magnesium and other healthy vitamins and minerals. Add some seeds, nuts, and dried fruits. Aim and toss it into each others' mouth, whoever catches the most gets a fantasy fulfilled by the other.
· Seasonal berries – Pick juicy, ripe, local berries that are small and delicate. They are just right to plop into a waiting mouth. Savor the juices, feel the berries in the midst of a sensuous long kiss. If you are feeling very berry-licious and a bit mischievous, smash them on each other and take pictures of these juicy designs before biting and licking them off each other.
· Sensual Aromatherapy Oils – The top three sexiest smells are citrus, cinnamon, and vanilla. Mix all three together and make your date go wild with desire. You can ask your date what their favorite smell is, go to your local, healthy living store and match some essential oils to it. Douse yourself with it in the most erotic places before each date and become irresistible.
· Don't forget to green your bedroom! Create the mood by burning eco-friendly candles, saving electricity. Bee's wax candles are the best, they burn clean and smell delicious. Choose a natural lubricant and avoid petroleum-based and artificially flavored products. Try "Sensua" organic personal lubricants. You can purchase condoms that support sustainable use of the Amazon rainforest called Natex. Go for eco-friendly super sexy lingerie from GreenKnickers and People Tree for women, and for men try Red Dog or Cottonfield.
Have fun!

---
| | |
| --- | --- |
| | Jill Crosby is the owner/founder of the Conscious Dating Network, a conglomerate of conscious/spiritual/green dating sites that make up the largest exclusively ''conscious'' dating network on the Internet. Having been a consultant in the bricks and mortar dating industry for 9 years Jill has a unique skill set and background for the online dating industry. She is a inspirational public speaker, hypnotherapist, metaphysician, workshop/retreat leader and facilitates Wild Dolphin and Whale Swim Retreats for Singles. She has a strong connection with the dolphins and whales and enjoys leading groups through transformational meditations and guided imagery. |
© 2009-2013 Conscious Dating Network, LLC – All rights reserved. You may publish this article in its entirety and with the author's resource information intact.



©2017 Conscious Dating Network. All Rights Reserved